Address: 2234 San Pablo Ave.
Berkeley
,
CA
94702
Map
Phone Number: (510) 843-0200
Type of Smog Station:
This station is a STAR Test Only center and can perform STAR and regular smog checks on all vehicles, including Diesels. This station does not perform smog check repairs.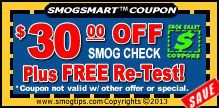 GET COUPON



Free Online Smog Test Diagnosis



Certified Smog Check Station
Station Details:



Voted BEST Smog Check in Berkeley!


Comfortable & Clean Waiting Room


Diesel Smog Check


DMV Renewal Smog Test


Out of State Smog Check


Regular Smog Inspection


STAR Smog Inspection


Test Only Smog Inspection
We are a family-owned... TEST ONLY smog shop in the East Bay. As UC Berkeley & CalState East Bay alums, we are committed to staying local and serving our community by offering outstanding service.

We guarantee... you will be completely satisfied with our service. We hold ourselves to a high level of integrity, so no gimmicks, and no hidden fees. What we promise is what you should expect.

Our station is equipped... with the latest, hi-tech smog inspection machines, staffed by expert smog check technicians.

Smog Special: Get $30.00 off our regular smog check price, plus 1 free retest!

Shop Hours: MON-SAT 8:00am to 6:00pm. SUN 10:00am to 4:00pm. Open 7 Days!
Voted BEST Place to Get Smogged by East Bay Express 2014!


Better Business Bureau (BBB) Honors.


Make yourself at home! Comfy waiting rooms away from noise.


Snacks & sodas while you wait.


FREE internet and Wi-Fi available.


Berkeley & Alameda Green Business.


Value Star rated GOLD for service.


Cash, checks, debit/credit accepted.


Family-owned small business.


FREE pick-up and delivery.


2 smog machines. Very little wait.


ASL interpreter available most days


SE HABLA ESPANOL!