Address: 1209 W. 190th St. Unit A
Gardena
,
CA
90248
GO TO MAP
Phone Number: (310) 538-2070
Type of Smog Station: This station is a STAR Test Only center and can perform STAR and regular smog checks on all vehicles, including Diesels. This station does not perform smog check repairs.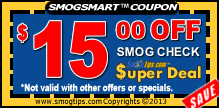 GET COUPON



FREE online smog test diagnosis



ASE certified smog check station



REVIEW this smog check station

Shop Services:

STAR Certified Smog Station

All DMV Required Smogs

ASE Master Technician in Charge!

Big Shop, Big Parking

Fast Smog - 15 Min Average

Fully Insured Smog Station

In Ground Dyno - Easy In & Out

Quality Equipment - Snap On

Regular, Test Only, Gold Shield

Specializing in Diesel & RVs

Tip Top Facility
Shop Profile:
5 Star 216 Yelp Reviews... Low prices and excellent smog check service. Fast Smog, In and Out Average 12 Minutes.
ASE Master Technicians... offering quality service, you can rest assured your vehicle is in good hands, the best in the South Bay!
We're conveniently... close to the 405 & 110 frwy on 190th street near the Torrance Walmart. Look for the Best Buy Auto Mall!
Specializing in Fleet Trucks & Diesel Trucks... Our high profile shop make smog testing on big trucks fast!
Shop Hours: MON-FRI 8:30AM to 6:00PM. SAT 8:00AM to 2:00PM.
Smog Check Special: WITH $15.00 OFF Coupon - $35.00 Grand Total Out The Door for Most 1996 & Newer Passenger Cars. 1995 & older, Trucks, SUVs, Star Station Vehicles & all others call for pricing. Restrictions Apply.
Plus Get... 1 Re-Test for $11.75 if your vehicle fails(plus $8.25 certificate if re-test passes). We want you to PASS the first time!