UPPER GROVE WAY SMOG CENTER
2932 Grove Way
Directions
Castro Valley
,
CA
94546
Call: (510) 537-4438
Test & Repair smog station
- This station is a Test & Repair smog station and can perform smog tests and repairs on all vehicles, including Diesels. This station can not perform STAR smog checks.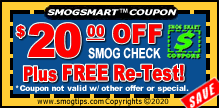 Get This Coupon



Free Online Smog Test Diagnosis



ASE Certified Smog Check Station
Station Details:



Expert Full Auto Service


A/C Service & Repair


Alignment & Suspension


Brake Service & Repair


Diesel Smog Checks


DMV Renewal Smog Test


General Repairs


Mufflers & Exhaust Systems


Out of State Smog Checks


Regular Smog Inspection


Smog Check Repairs/Inspection


Tire & Battery Service


Transmission Service/Repair
Welcome to... Upper Grove Auto. We are a full service automotive smog, repair, and maintenance shop serving the Castro Valley area with many years of consistent and friendly service.

Our Professionalism... sets us apart from the rest. We are an ACDelco Repair Center and ASE Certified Shop, providing you with the highest quality service.

We are held... to the State's highest standards. You can rest assured your vehicle is receiving the best service in the industry.

Shop Hours: MON-FRI 8AM to 5PM. Open late by appointment.

Smog Special: Get $20.00 off your smog check with SmogTips coupon.

Plus Get... 1 Free re-test if needed. We want you to pass the first test!

*Must present printed coupon to service writer prior to smog inspection.