SMOG CHECK VENTURA
This Location is Under Construction
Directions
Ventura
,
CA
93001
Call: Business Address & Number Here
Test Only center
- This station is a Test Only center and can perform regular smog tests on all vehicles, including Diesels. Test Only centers do not provide STAR smog checks or smog check repairs.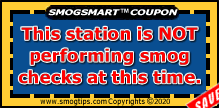 Get This Coupon



Free Online Smog Test Diagnosis



ASE Certified Smog Check Station
Station Details:



ADD YOUR SERVICES HERE


DMV Renewal Smog Test


Mini-Market


Out of State Smog Checks


Test Only Smog Inspection
AD SPACE AVAILABLE IN VENTURA. CALL (877) 766-4847 AND ASK FOR A FREE 30 DAY TRIAL. SPACE IS LIMITED. RESTRICTIONS APPLY.

*Must present printed coupon to service writer prior to smog inspection.