CLAIREMONT AUTO CARE
4495 Clairemont Mesa Blvd.
Directions
San Diego
,
CA
92117
Call: (858) 274-6566
Test & Repair smog station
- This station is a Test & Repair smog station and can perform smog tests and repairs on all vehicles, including Diesels. This station can not perform STAR smog checks.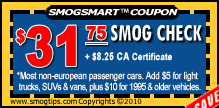 Get This Coupon



Free Online Smog Test Diagnosis



ASE Certified Smog Check Station
Station Details:



Expert Full Auto Service


A/C Service & Repair


Brake Service & Repair


Electrical Diagnostics


Fuel Injection Service/Repair


General Repairs


Lube & Oil Service


Major Repairs


Smog Check Repairs/Inspection


Tire & Battery Service


Transmission Service/Repair


We Smog Motorhomes & RVs Too!
Clairemont Auto Care is... Your complete auto repair and smog center.

We Do It All! From A to Z and normally with same day excellent service.

We employ only... ASE trained and certified technicians and our station is equipped with the latest in auto repair and smog testing equipment.

Shop Hours: MON-FRI 8:00am to 5:00pm and SAT 8:30am to 2:00pm.

Smog Special: Smog check only $31.75* with SmogTips discount coupon!

*applies to non-european passenger cars and light trucks under GVWR 4500 LBS only. + $8.25 CA Cert fee.

*add $5.00 for light trucks, SUVs and vans, plus $10.00 for all vehicles 1995 & older, due to CA State mandated additional testing (LPFET).

*Must present printed coupon to service writer prior to smog inspection.