ULTRAMAR TEST ONLY CENTER
105 E. 5th St.
Directions
San Bernardino
,
CA
92410
Call: (909) 386-2581
STAR Test Only center
- This station is a STAR Test Only center and can perform STAR and regular smog checks on ALL vehicles, including Diesels. STAR Test Only centers do not perform repairs.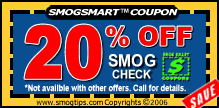 Get This Coupon



Free Online Smog Test Diagnosis



ASE Certified Smog Check Station
Station Details:



WE CAN SMOG ALL CARS!


DMV Renewal Smog Test


Gross Polluter Certification


Regular Smog Inspection


Test Only Smog Inspection
Experienced and Reputable... Smog Test-Only Center in the city of San Bernardino.

We have over 20 years experience in the automotive field and have a reputation for honest and reliable service.

SHOP HOURS: MON-FRI 9:00am to 5:00pm and SAT 9:00am to 1:00pm. Appointments are not required.

SMOG SPECIAL: Show us your SmogTips Discount Coupon and Get 20% OFF our ALREADY LOW-LOW Smog Check Price!

PLUS GET... 50% OFF your smog re-tests!

*Must present printed coupon to service writer prior to smog inspection.