Catalytic Converter (CAT)
The catalytic converter is a device installed in the exhaust system to significantly reduce the emission levels of hydrocarbons (HC), carbon monoxide (CO), and in the case of most newer catalytic converters, oxides of nitrogen (NOx). CO and HC reduction CATs are called Two Way CATs, and CATs which reduce all three emissions are called Three-Way CATs. Your vehicle's Underhood Emissions label can provide you with information regarding the type and requirement of this component.
If your vehicle requires a catalytic converter it must be present, installed and functioning properly. 95% of vehicles on the road in California are required to be equipped with a CAT.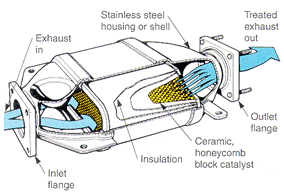 Operation: The CAT is a catalyst, it typically plays no part on how well your engine runs. The catalytic converter only begins working after exhaust has exited the engine's combustion chambers. When hot exhaust gases are forced through the catalytic converter, they contact the catalyst substrate. This causes a rapid increase in temperature, thus burning the exhaust gases even hotter and more thoroughly, ultimately reducing emissions.
In the Three Way CAT, once the HC and CO reduction has occurred by extreme heating, a NOx reduction substrate separates the harmful pollutant known as nitrogen oxides into nitrogen and oxygen.
Catalysts are designed to function for a limited time, and require replacement. How long a vehicles CAT will last depends on how completely the engine burns fuel before presenting it the to the CAT and also on the quality of the CAT. Factory CATs should normally last 7 to 10 years. Aftermarket CATs should work for at least half that. We see CAT failures most often in vehicles which have been poorly maintained and which have produced high emissions in more then one category.
Location: The catalytic converter exterior is usually made of stainless steel. The CAT looks very similar to a muffler except it contains a catalyst substrate within and is normally located in the exhaust system before the muffler and after the exhaust manifold. Most often you will located the CAT underneath your vehicle towards the center of the exhaust system. On certain 4 and 6 cylinder model engines you will see the CAT directly after the exhaust manifold. On these model vehicles the CAT and exhaust manifold may be one unit.
For the Smog Test: During the smog inspection the smog technician will visually inspect the CAT for presence and proper connection. Should your vehicle fail the smog test the CAT may be suspect. A vehicle's CAT usually becomes plugged after a material breakdown within it normally due high exhaust temperatures and rich fuel. After first inspecting the fuel and ignition systems, an intrusive CAT test and Back Pressure/Vacuum test may be performed. These tests will determine whether the CAT is plugged. The important thing here is this... if in fact the CAT is damaged, it is important to ensure a pre-existing problem is not the culprit.