Address: 883 N. Tustin St.
Orange
,
CA
92867
Go To Map
Phone Number: (714) 639-5590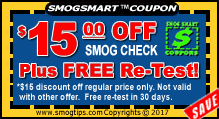 GET COUPON

FREE Online Smog Test Diagnosis

ASE Certified Smog Station

Review This Smog Station
Station Services:
- Open 7 Days a Week
- Diesel Smog Check
- DMV Renewal Smog Test
- Gross Polluter Certification
- Hybrid Smog Tests
- Out of State Smog Check
- Regular Smog Inspection
- STAR Smog Inspection
- We Smog Check All Vehicles
Station Profile:
Shell Smog Test Center... is certified by the CA to inspect all vehicles, including gross polluters, vehicles requiring STAR smog checks, and vehicles that need regular smog inspections.
We've been providing Orange residents accurate and affordable smog inspections for over 26 years. Come experience for yourself why vehicle owners love us. Customer service is job #1!
Shop Hours: MON-SAT 8:00am to 6:00pm. SUN 8:00am to 6:00pm. No appointment needed.
Smog Special: Get $15.00 off your smog check when you show us your SmogTips coupon. Plus get 1 free smog check if needed. We want you to pass the first time!
*Discount off regular price only. Free re-test in 30 days.