QUIK SMOG TEST ONLY HAYWARD
22326 Mission Blvd.
Directions
Hayward
,
CA
94541
Call: (510) 885-1001
STAR Test Only center
- This station is a STAR Test Only center and can perform STAR and regular smog checks on ALL vehicles, including Diesels. STAR Test Only centers do not perform repairs.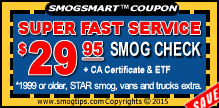 Get This Coupon



Free Online Smog Test Diagnosis



ASE Certified Smog Check Station
Station Details:



WE CAN SMOG ANY CAR!


Gross Polluter Certification


Out of State Smog Checks


Registration Renewal Smogs


Regular Smog Inspection


Test Only Smog Inspection
IF YOU PREFER... we can take longer, but we like to stick to our name.

We specialize... in smog checks and don't perform any repairs, so you're in & out in a flash!

We offer... 6 convenient Bay Area locations to serve you. All stations equipped with the latest in smog inspection equipment and staffed by expert technicians.

Shop Hours: MON-SAT 8AM to 6PM.

Smog Special: $29.95* smog special!

Plus Get... One (1) Free Re-Test if needed!

*Most vehicles. 1995 & older vehicles $10 extra due to state mandated EVAP test.

*Must present printed coupon to service writer prior to smog inspection.