Address: 1726 Park St.
Alameda
,
CA
94501
Go To Map
Phone Number (510) 522-7664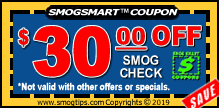 GET COUPON

FREE Online Smog Test Diagnosis

ASE Certified Smog Station

Review This Smog Station

Station Services
- We Smog All Vehicles
- Diesel Smog Check
- DMV Renewal Smog Test
- Gross Polluter Certification
- Out of State Smog Check
- Regular Smog Inspection
- STAR Smog Inspection
- Test Only Smog Inspection

Station Profile
Is it time for your vehicle's smog check? Don't have too much money or time? You've come to the right place... Alameda Smog Dog!
Fast friendly and affordable service is our specialty! We're the best in Alameda! Our ASE smog technicians will be more then happy to help you with your vehicle's smog inspection, and they'll make it as painless as possible.
Shop Hours: MON-FRI 8:30am to 5:30pm. SAT 9:00am to 5:00pm.
Smog Special: Show us your SmogTips Discount Coupon and Get $30.00 OFF your Smog Inspection! Awesome Deal!
For your next smog check, visit the station that does it the Best... Alameda Smog Dog!