Address: 11847 San Pablo Ave Unit A
El Cerrito
,
CA
94530
Go To Map
Phone Number: (510) 234-9800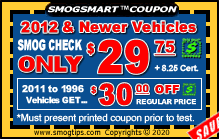 GET COUPON

FREE Online Smog Test Diagnosis

ASE Certified Smog Station

Review This Smog Station
Station Services:
- We Smog All Vehicles
- Diesel Smog Check
- DMV Renewal Smog Test
- Gross Polluter Certification
- Hybrid Smog Tests
- Out of State Smog Check
- Regular Smog Inspection
- STAR Smog Inspection
- Test Only Smog Center
Station Profile:
The Smog Depot... Your one stop smog shop with 2 locations to serve you - one in El Cerrito and one in Daly City!
We can inspect... and certify all vehicles, including gross polluters, STAR and vehicle requiring regular smog checks, and we do it for a low price!
Shop Hours: MON-FRI 8:00am to 6:00pm. SAT 8:00am to 3:00pm.
Smog Special: Get your smog test for ONLY $29.75* with your SmogTips coupon. Applies to all 2012 & newer vehicles! Come on down!
*Plus $8.25 CA certificate. $30.00 regular price for 1996 through 2011 vehicles. Must present coupon.