Address: 4623 Artesia Blvd. Unit 1
Lawndale
,
CA
90260
Directions
Phone Number (310) 542-4239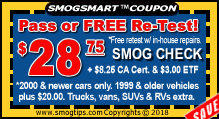 GET COUPON

STATION SERVICES
- Best Price in Lawndale
- A/C Service & Repair
- AAA Certified Station
- Alignment & Suspension
- Brake Service & Repair
- Carburetor Service/Repair
- Complete Tune-Ups
- Electronic Diagnostics
- Fuel Injection Service/Repair
- Gross Polluter Certification
- Motorhome & RV Smogs Too!
- Mufflers & Exhaust Systems
- Registration Renewal Smogs
- Shocks & Suspension
- Smog Check Repairs/Inspection
- STAR Smog Inspection
- Tire & Battery Service
- Transmission Service/Repair

STATION PROFILE
Best smog test price... in Lawndale! Bob Lee Automotive has been providing excellence since 1970. Hands down the most experienced STAR certified smog check test & repair station in Lawndale, CA.
As a STAR Certified smog test and repair center, we are authorized to inspect, certify and if need be repair all vehicles, including those directed to STAR centers. This advantage means you don't have to drive around town looking for the "RIGHT" type of smog test... we do it all!
Bob Lee's Automotive takes great pride in protecting our customers investments and we're confident we will earn your trust with our care and professionalism.
Your vehicle is... probably the second largest investment you'll ever make. Like a good doctor, you'll need an auto repair shop you can trust.
We provide factory scheduled service and maintenance on all vehicle. Bob Lee Automotive is truly your one stop source for professional auto care or smog.
We hope you'll give us the opportunity to serve you the next time your vehicle needs a smog check or any service or maintenance.
Shop Hours: MON- FRI 7:00am to 5:30pm. SAT 7:00 to 4:00pm. Closed on Sundays.
*AAA (Auto Club) Certified Repair Center