Address: 999 Macarthur Blvd.
San Leandro
,
CA
94577
Go To Map
Phone Number: (510) 383-9999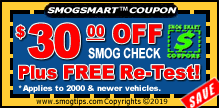 GET COUPON

FREE Online Smog Test Diagnosis

ASE Certified Smog Station

Review This Smog Station
Station Services:
- We Smog All Vehicles
- DMV Renewal Smog Test
- Gross Polluter Certification
- Out of State Smog Check
- Regular Smog Inspection
- STAR Smog Inspection
- Test Only Smog Center
Station Profile:
MacArthur Smog Check is a California based emission testing station operating in San Leandro under State of California Enhanced Smog Check program. MacArthur Smog Check is a state certified Test Only Smog Check Station serving individuals and a number of dealerships.
Guaranteed Service
Accurate and honest test inspection.
Affordable price.
How We Work
First come first served unless you have an appointment.
Hours are 8am-6pm Monday-Friday.
Saturday 9am-5pm.
Smog Check test takes approximately 15-20 minutes.
Smog Check Special
$30.00 Off regular smog check price with SmogTips.com coupon.
One (1) Free Re-Test if vehicle fails first test. Now that's a deal!
*Coupon applies to 2000 & newer vehicles.