Address: 718 Fair Oaks Ave.
Pasadena
,
CA
91030
Directions
Phone Number (xxx) xxx-xxxx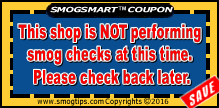 GET COUPON

STATION SERVICES
- We Can Smog Any Car!
- Diesel Smog Check
- DMV Renewal Smog Test
- Gold Shield Smog Checks
- Out of State Smog Check
- Regular Smog Inspection
- STAR Smog Inspection
- Test Only Smog Inspection

STATION PROFILE
(CLOSED) - Performance STAR Smog... in South Pasadena is certified by the State of California to inspect ALL vehicles, including gross polluters, STAR smogs, and vehicles that need regular smog inspections too!
We've been providing... South Pasadena and neighboring city vehicle owners for over 20 years with expert service and affordable prices.
SHOP HOURS: MON-FRI 8:00am to 6:00pm. SAT 9:00am to 4:00pm.
SMOG SPECIAL: Print and Bring in your SmogTips Discount Coupon and Get your smog check for only $29.75*
*Trucks, SUV's & van $15.00 extra. 1995 & older vehicles $15.00 extra.