Address: 2285 Newport Blvd. Unit C2
Costa Mesa
,
CA
92627
Go To Map
Phone Number (949) 650-1549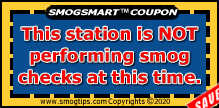 GET COUPON

FREE Online Smog Test Diagnosis

ASE Certified Smog Station

Review This Smog Station

Station Services
- We Smog All Vehicles
- Comfortable & Clean Waiting Room
- Diesel Smog Check
- DMV Renewal Smog Test
- Gross Polluter Certification
- Hybrid Smog Tests
- Out of State Smog Check
- Regular Smog Inspection
- STAR Smog Inspection

Station Profile
Newport & Costa Mesa Smog... affordable and quick smog check service in Costa Mesa! We offer smog checks only. We don't perform repairs, so our tests are fair and accurate.
We're located inside the "Angel's Auto Spa", at the corner of Fairview & Newport Blvd. Get a car wash deal with all smogs. We'll help you drive smog legal and super clean! Treat your car!
Shop Hours: MON-FRI 8:00am to 6:00pm. SAT 9:00am to 5:00pm. SUN 8:00am to 4:00pm.
Smog Special: Get your smog test for ONLY $29.75 + $8.25 CA cert. Applies to 2000 & newer cars. 1999 & older call for price!
Free Retest: Plus get 1 free retest in 30 days!