Address: 9207 Mission Gorge Rd
Santee
,
CA
92071
Go To Map
Phone Number: (619) 449-6300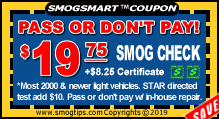 GET COUPON

FREE Online Smog Test Diagnosis

ASE Certified Smog Station

Review This Smog Station
Station Services:
- Open 7 Days a Week
- Brake & Lamp Inspections
- Comfortable & Clean Waiting Room
- Complete 30/60/90 Maintenance
- Diesel Smog Check
- DMV Registrations Services
- DMV Renewal Smog Test
- Gross Polluter Certification
- Hybrid Smog Tests
- Minor / Major Engine Repairs
- Oil Change - Battery - Brakes
- Out of State Smog Check
- Regular Smog Inspection
- Smog Check Repairs
- Smog Failure Diagnostics
- STAR Smog Inspection
Station Profile:
5 STAR smog station hands down... Best smog check experience you'll have in Santee, CA. Friendly and experienced staff offering professional and affordable inspection services.

Santee Auto Sales & Service is committed to giving you the best service! We're happy to answer your questions and offer fast & efficient certified smog checks for your vehicle, at a very competitive price.
All types of smog tests done here; out-of-state, regular, hybrid, diesel... STAR smog check required? No problem. We're CA certified and authorized to perform smog checks on all vehicles!

Shop Hours: MON-FRI 7:30am to 5:30pm. SAT 7:30am to 4:30pm. SUN 9:00am to 3:00pm.

Smog Special: Get your smog test for only $19.75* with your SmogTips coupon. Ask about our Smog and Tags coupon deals!
Pass or Don't Pay: Worried your vehicle might fail? Let us do the required repairs in the unfortunate event it does, and we won't charge you for the smog test. Simple as that!
This Month's Bonus: Free tire rotation and brake inspection with every oil change!

*Most 2000 & newer light vehicles. + $8.25 CA cert. STAR directed vehicles $10 extra. Light vehicles 1999 thru 1996 add $10.00. Light vehicles 1995 to 1990 add $20.00.