Address: 523 W. Rialto Ave. B
Rialto
,
CA
92375
Directions
Phone Number (909) 873-5403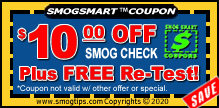 GET COUPON

STATION SERVICES
- We Smog All Vehicles
- Open 7 Days a Week
- Diesel Smog Check
- DMV Renewal Smog Test
- Gross Polluter Certification
- Hybrid Smog Tests
- Out of State Smog Check
- Regular Smog Inspection
- STAR Smog Inspection

STATION PROFILE
DOES NOT PARTICIPATE IN REBATE PROGRAM. Make Benny's Smog in Rialto... your preferred smog inspection center today. Ensure your vehicle is in compliance. Have your car completely tested by our experts.

Staffed with 2 experienced smog technicians, we guarantee to deliver an on-time and accurate smog check of your vehicle.
•Fully Licensed in the State of California
•Open Daily
•Scheduled and Walk-In Service Available
•Se Habla Español
•STAR Certified Smog Station
•While-U-Wait Smog Check
Shop Hours:
MON-FRI 8:00am to 6:00pm. SAT 8:00am to 5:00pm. SUN 9:00 to 3:30pm.
Smog Special:
Get $10.00 off our already low priced smog inspection. Plus one (1) free retest!