Address: 738 S. Waterman Ave. A-17
San Bernardino
,
CA
92408
Go To Map
Phone Number: (909) 890-9806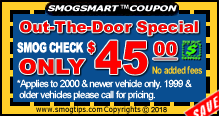 GET COUPON

FREE Online Smog Test Diagnosis

ASE Certified Smog Station

Review This Smog Station
Station Services:
- We Smog All Vehicles
- Comfortable & Clean Waiting Room
- Diesel Smog Check
- DMV Registrations Services
- DMV Renewal Smog Test
- Gross Polluter Certification
- Hybrid Smog Tests
- Out of State Smog Check
- Regular Smog Inspection
- STAR Smog Inspection
Station Profile:
Need a smog check? Look no further. At Auto Smog our motto is simple; To help our community by providing accurate, quick and affordable smog checks.
We are smog check experts with over 20 years of auto emission experience. Give us a call or drive into our STAR certified smog test center today! *Se Habla Español.
Get your Tags here! We offer in-house registration service to gave you time!
Shop Hours: MON-FRI 9:00am to 5:00pm. SAT 9:00am to 2:00pm. SUN Closed.
Smog Special: Get your smog test for only $45.00 Out-The-Door! No upsells, no added charges.
*Applies to 2000 & newer vehicles only.