Address: 8870 Tampa Ave.
Northridge
,
CA
91324
Directions
Phone Number (818) 882-2477
(818) 882-9274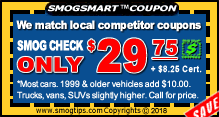 GET COUPON

STATION SERVICES
- All DMV Required Smogs!
- Gross Polluter Certification
- Out of State Smog Check
- Registration Renewal Smogs
- Regular Smog Inspection
- STAR Smog Inspection
- Test Only Smog Inspection

STATION PROFILE
Get your smog check... done at Cruisers Smog Test Only! We'll help you drive smog legal and Super Clean! Treat your car!
We're conveniently located... in front of the Costco Shopping Center in Northridge, between Nordoff & Parthenia on Tampa!
SMOG HOURS: MON-SAT 8:00am to 6:00pm. OPEN 6 DAYS A WEEK.
No appointments required. Short or No Wait. Comfortable and clean lounge area.
Smog Special: Show us your SmogTips coupon and get your Smog Check for ONLY $29.75 plus CA Certificate!
*Most cars. 1999 & older vehicles add $10.00. Trucks, vans, SUVs slightly higher. Call for pricing.