Address: 10885 Venice Blvd. Unit A
Los Angeles
,
CA
90034
Directions
Phone Number (310) 839-4500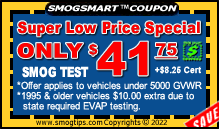 GET COUPON

STATION SERVICES
- Open 7 Days a Week
- All Cars, Trucks & Vans Smogged
- Change of Ownership Smog Check
- Diesel Smog Check
- DMV Renewal Smog Test
- Gross Polluter Certification
- Motorhomes/RV's
- Out of State Smog Check
- Regular Smog Inspection
- Test Only Smog Inspection

STATION PROFILE
No gimmicks, No repairs, No Tricks... Just straight forward and low priced smog checks. We take pride in excellent & professional service.
Shop Hours: MON-FRI 8:30am to 5:30pm. SAT-SUN 8:30am to 3:00pm.
Our Location at 2945 S. Western Ave is OPEN 7 days a week also!
Quick & Easy... smog check takes approx. 20 minutes. We offer a comfortable waiting area with a clear view of your vehicle at all times. We encourage our customers to watch the inspection and ask questions!
Smog Special: $41.75* smog check plus CA certificate ($8.25)! No ETF Fees!
Thank you for visiting our webpage. Call us today for questions. (310) 839-4500.
*1995 & older vehicles add $10.00 due to state required EVAP testing. Discount applies to light trucks, SUV's, vans and passenger cars. Call for RV, Motorhome and Heavy duty vehicle prices.