Address: 5436 West 6th St.
Los Angeles
,
CA
90036
Go To Map
Phone Number: (323) 333-2044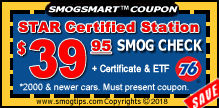 GET COUPON

FREE Online Smog Test Diagnosis

ASE Certified Smog Station

Review This Smog Station
Station Services:
- We Can Smog Any Car!
- A/C Service & Repair
- Brake Service & Repair
- Change of Ownership Smog Check
- Diesel Smog Check
- DMV Renewal Smog Test
- General Repairs
- Gross Polluter Certification
- Oil & Battery Service
- Out of State Smog Check
- Regular Smog Inspection
- STAR Smog Inspection
- Test Only Smog Inspection
Station Profile:
Best smog check price... in the Miracle Mile! Miracle Mile 76 has been serving the community with excellence for over 40 years.
We've built our reputation on honest, affordable, and reliable service, the 76 Brand is know for.
Our technicians specialize in smog testing vehicles of all makes and models, and we're ASE and AAA certified.
Shop Hours: MON-FRI 8:00am to 5:00pm. SAT 9:00am to 4:00pm.
Smog Special: Bring in your coupon and get your smog inspection for ONLY $39.95* + cert & ETF!
*Applies to 2000 and up cars.