Address: 1950 Oceanside Blvd Unit O
Oceanside
,
CA
92054
Directions
Phone Number (760) 721-8350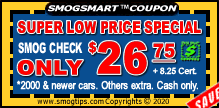 GET COUPON

STATION SERVICES
- All DMV Required Smogs!
- Change of Ownership Smog Check
- Diesel Smog Check
- DMV Renewal Smog Test
- Gross Polluter Certification
- Military Base Sticker Inspection
- Out of State Smog Check
- RV/Motorhome Smog Test
- STAR Smog Inspection
- Test Only Smog Center

STATION PROFILE
Oceanside's Best Service & Price! Marine Veteran Owned & Operated! With over 30 years emissions experience and 21 years at the same location. One visit and you'll never go anywhere else. We bet our business on it!
Smog Check Special! Only $26.75*! Regular or STAR smogs! We're certified to perform ALL DMV required smog inspections! Period.
Shop Hours: Mon-Fri 9:00am to 5:00pm. Sat 8:00am to 12:00pm. Appointments not required.
Location: Conveniently located at the VIP Car Wash Auto Complex on Oceanside Blvd. east of Greenbrier Dr. Ample parking & easy access.
*Most 2000 and newer cars. Other vehicles extra. Must present coupon at invoice write up. Restrictions may apply. Not valid with other offers. + $8.25 CA state certificate fee.
**Must pay with cash.